Protruding Hooks and Hangers
For Hanging Ornaments


We have two customized styles of hooks that we hand make ourselves. These were originally designed for hanging our Personalized RV-Patio lights. They also work very well for hanging bird feeders, bird houses, wind chimes, wind spinners, or any hanging ornament up to 2 pounds.
The hooks protrude out 13" from the mounting base. This prevents the hanging ornament from being blown back against the object the hook is mounted to. They are made of aluminum rod and a wood mounting base.
We also make a ornament hanger for awning roller tubes.
Clamp-on Ornament Hook
| | |
| --- | --- |
| | |
| Clamp-on hook mounted on RV awning arm. | Clamp-on hooks mounted on mobile home canopy support legs. |
The "Clamp-on" hook was designed to fit on a RV awning arm, which is 3" X 1 1/2". It can be used when the awning is rolled up, or set up in the "carport" position. They do NOT work on automatic awnings. This hook will also work on any upright object that the included stainless steel clamp will fit around or, you can obtain a larger hose clamp.
Post-mount Ornament Hook

The "Post-mount" hook has a heart shaped mounting base that includes two screws. It can be attached to a post, porch pillar, wall, etc.

TO ORDER
The hooks are $10.00 U.S. each. Shipping to US addresses (Priority Mail) is $6.00 for the first hook, and $1.00 for each additional hook.
For shipments to Canada (First Class International), please click the Add to Cart button for $6.00 additional shipping (one per order).
You can change the quantity in the Shopping Cart.


Ornament Hook: $10.00(U.S.)
---
$6.00 Additional shipping to Canada:
---
Awning Hangers
We also make a handy little hanger for RV and patio roll-up awnings. They slide into the roller tube slot where the pull strap slides into. They can be used to hang string lights, rope lights, or various ornaments on your awning, including our Personalized RV-Patio lights.
They are made of a strong, but flexible plastic, and can be left in when the awning is rolled up. There are 10 in a package for $5.00(U.S.) plus $1.00 shipping.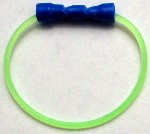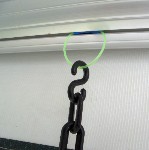 Awning Hangers-10 Pak: $5.00(U.S.)
From Hooks and Hangers back
to Personalized RV-Travel Accessories Home