To Order Cards:
Fill out the Fields on the form that pertain to the information you want on your cards. You can leave the other Fields blank, or enter "none".
CLIP ART IMAGES: Click on the links below to brouse clips (they will open a new window). We have thousands of clips available, but only have the most popular ones displayed. If you want something else, Contact Us with your request and we will e-mail you some samples to choose from.
We have clips of 50 States and the Canadian Provinces (not displayed yet). Just put the state name in the Clip Code box.
RV Clips
Sports & Recreation Clips
Nature Clips
Music & Dance Clips
Horses & Western Clips
Example of Quotes & Comments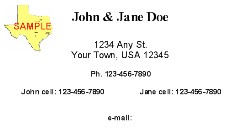 NOTE: When you click the Submit button above, I will receive this form. However, your order will not be processed if you do not complete the payment.